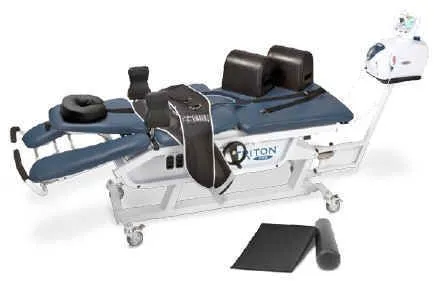 Spinal Decompression Therapy

This website is designed for anyone suffering from back pain, sciatica, leg pain, herniated disc, degenerative disc disease, bulging disc, tingling, numbness, arm pain, neck pain, and some patients with spinal stenosis and failed low back syndrome.
We bring together patients to preform Non-Surgical Spinal Decompression. This allows patients a 70% chance of resuming a normal lifestyle.
This site is designed to fully inform the millions of Americans who suffer with debilitating pain on a daily basis. Patients can now be informed and updated with current working knowledge of these conditions and the latest Non-Surgical breakthrough technology called Spinal Decompression Therapy.
If you or your family members have been struggling with these debilitating conditions with little or no relief, then ask yourself the following questions.
Are you currently dependent on medications on a daily basis?
Are you limited in daily activities?
Have you had repeated injections or epidurals with little or no relief?
Are you considering surgery and are uncomfortable with that choice?
Have all the options been presented to you?
Have you already tried chiropractic or physical therapy?
Have you been out or work due to pain?
If you answered yes to any of these questions, then non-surgical spinal decompression therapy is certainly a viable treatment option and could very well be what you're looking for. Dr. John Garfield will discuss the possibility of using decompression therapy to help your condition.
The Benefits of Spinal Decompression (DTS)!
Spinal decompression therapy (DTS) works and relieves referral pain for people who have non-acute back and neck pain that is not the result of a disease or injury. Individuals who have chronic back pain, degenerative disc disease or herniated discs report that relief is found with spinal decompression therapy (DTS).
Before you go under the knife and opt for spinal surgery, you should seriously consider spinal decompression therapy (DTS). More than 70 percent of patients who have spinal decompression therapy (DTS) report success. Surprisingly, these numbers are comparable to the results of spinal surgery. In fact, many people who have had spinal surgery in the past and who still have pain are finding that spinal decompression therapy (DTS) can help them.
However, it should be noted that individuals who are pregnant and patients who have had spinal surgery involving hardware such as titanium cages or pedicle screws will not be good candidates for spinal decompression therapy (DTS).
Spinal decompression therapy (DTS) in conjunction with additional modalities effectively relieves the pain and disability resulting from disc injury and degeneration, by repairing damaged discs and reversing dystrophic changes in nerves. Spinal decompression addresses the functional and mechanical aspects of discogenic pain and disease through non-surgical decompression of lumbar intervertebral discs. Studies verify the significant reduction of intradiscal pressures into the negative range, to approximately minus 150 mm/HG, which result in the non-surgical decompression of the disc and nerve root. Conventional traction has never demonstrated a reduction of intradiscal pressure to negative ranges; on the contrary - many traction devices actually increased intradiscal pressure, most likely due to reflex muscle spasm. The spinal decompression table is designed to apply distraction tension to the patient's lumbar spine without eliciting reflex Para vertebral muscle contractions.
Research indicates the disc is responsible for a significant number of Lumbar/Leg pain and neck/arm pain syndromes. Compression increases intradiscal pressure leading to annular compromise and possible extrusion of nuclear material.

By significantly reducing intradiscal pressure, spinal decompression promotes retraction of the herniation into the disc and facilitates influx of oxygen, proline and other substrates. The promotion of fibro elastic activity stimulates repair and inhibits leakage of irritant sulphates and carboxylates from the nucleus. The most recent trial sought to correlate clinical success with MRI evidence of disc repair in the annulus, nucleus, facet joint and foramina as a result of treatment and found that reduction of disc herniation ranged between 10% and 90% depending on the number of sessions performed, while annulus patching and healing was evident in all cases.1
REFERENCE:
1A Clinical Trial on Non-Surgical Spinal Decompression Using Vertebral Axial Distraction Delivered by a Computerized Traction Device
Bruce Gundersen, DC, FACO; Michael Henrie, MS II, Josh Christensen, DC.
The Academy of Chiropractic Orthopedists Quarterly Journal of ACO - June 2004