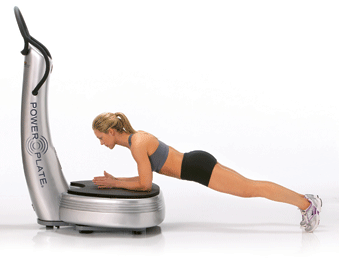 Power Plate® pro5™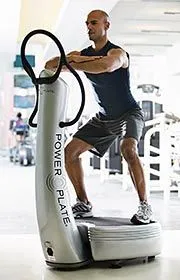 What exactly is Power Plate®?Power Plate® equipment is the premium vibration device powering a new dimension in wellness solutions for all ages, lifestyles and physical abilities.It uses the principles of Acceleration Training™to stimulate the body's natural response to vibration.These vibrations transmit waves of energy throughout the body, activating muscle contractions between 25 and 50 times per second, enhancing overall performance in sessions as short as 15 minutes a day, 3 times a week.
The Power Plate® pro5™:Power Plate® pro-series machines provide the ultimate experience in Acceleration Training™exercise. The Power Plate® pro5™ machine has a large number of settings for greater variation in health and fitness regimens, and the large plate surface provides more exposure to vibrations. The Power Plate® pro5™ unit can take you as far as you want to go with your fitness goals, allowing you to increase vibration levels in one-step increments. Backed by a commercial grade warranty and hundreds of professional users, the Power Plate® pro5™machine functions as a complete home health and wellness solution.
Acceleration Training™on Power Plate® equipment offers a host of benefits, ranging from an immediate improvement in blood circulation, to a variety of other measurable outcomes: such as increased muscle strength and flexibility, improved range of motion, decreased cellulite, increased bone mineral density, reduced pain and soreness and faster recovery. Its three-dimensional vibration technology continues to lead the industry, and its benefits are grounded in extensive academic and independent scientific medical research. This is a real breakthrough in training and conditioning as we can now optimally "load" the human frame while minimizing high impact, high load, and high stress factors. Gravity is the force that adds load to the human body every second of every day for every movement we perform.Through Acceleration Training™ exercise, Power Plate®machines make the body feel as though it "weighs" more every time acceleration forces increase.
The principle by which Power Plate® machines work lies in the law of motion: the force of an object is equal to its mass multiplied by acceleration, or f = m x a. What this means is that one can improve functional force (stability, strength or power) by either applying more mass or more acceleration to the body.Many forms of training and conditioning use mass - as seen in methods with weight machines, free weights, etc. Power Plate® machines, instead, use the second half of this equation, by applying acceleration to the body, while keeping mass, (i.e. your body weight), the same.
The result is that you work against a far greater influence or "load" of gravity in every movement you perform.This is the essence of all strength and conditioning programs and Power Plate® machines simply use a different part of the same equation to achieve this!In fact, the amazing outcomes seen with Acceleration Training™ exercise respect the same biological and physiological laws of the body as witnessed in other forms of training.The difference is merely the nature of the stimulus applied (i.e. acceleration), and not the human response.
Features of the pro5™:
Color: Silver
Grade: Commercial and Personal Use
Vibrations created by two powerful engines combined with a dampening system for effective and pleasant vibrations
Maximum Load: 400 lbs / 180 kg
Frequency Range: 35 - 50 Hz
Frequency Adjust: 1 Hz increments
Vibration: Triplanar, Mostly Vertical, 25-50 times per second
Time Setting: 30, 45 or 60 sec
Vertical Displacement: High/Low Settings
Dimensions: 34 in x 42 in x 61 in
Machine Weight: 330 lbs / 150 kg
Power Supply: 90 - 260 VAC, 50/60 Hz
Nominal Power: 35 kW (in operation)
Acceleration Training™ exercise is designed to dramatically enhance sports training as both a supplement to and an alternative form of training. In just minutes, range of motion and stability can increase, providing a perfect warm-up before training or competing. In addition to being an ideal pre-event tool, Power Plate® machines are an excellent means of continuously maximizing performance. As the vibrations stimulate fast-twitch muscle fibers, athletes who use Power Plate®machines over time experience a dramatic increase in explosive strength, motor learning, muscular endurance and overall agility.
Additional Proven Advantages and Benefits of the POWER PLATE ® pro5™:
Using the principles of vibration training, the Power Plate® can help people to improve sports performance, enhance fitness and wellness and even accelerate recovery from injury.Vibration training provides the following advantages:
Shorter training time for similar results
Increase in Balance and Coordination
Improved muscle tone
Improved strength, mobility and coordination
Better range of motion and flexibility
Decreased body pain
Increased blood circulation
Improved joint function and stability
Reduced stress levels (Cortisol levels) and improved hormonal profile - Testosterone, Human Growth Hormone, IGF-I and Serotonin
Increased bone density
Massage applications
Improved sports injury recovery
* With applications ranging from elite sports conditioning to training for the elderly and sedentary, the pro5™ can provide a broad range of health benefits right in the comfort of your home. Acceleration Training™ through Advanced Vibration Technology is utilized or recommended by medical centers, sports teams, elite training facilities and health clubs, and has been proclaimed, "the new way to shake off the pounds" - Time Magazine, Sept. 2006.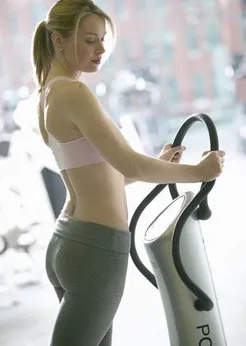 Own the most talked about and effective full-body piece of fitness equipment in Acceleration Training!From Madonna, to the Chicago Bulls, the Hollywood and Sports industries are now using what is considered the best and most sufficient piece of fitness equipment… with consistently the best results!!
What Hollywood and Music Celebrities are saying about the Power Plate®:
"The band must be in peak physical form to withstand the demands of daily travel and nightly performances. The Power Plate is that key component in helping us feel and look our best. Taking it on the road made a big difference." - Sting and The Police
"Power Plate is a fast and effective strength workout and I like it before a round of golf because it helps me be loose and flexible." - Clint Eastwood
"I love that with the Power Plate, I can get a full workout at home in next-to-no time. I really am impressed with the machines ability to target and recruit specific muscles and improve my flexibility at the same time. It just feels good." -
Hilary Swank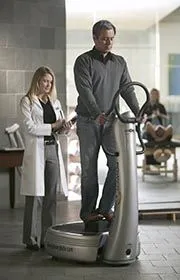 Medical: Rehabilitation
Not only can Acceleration Training™ exercise using Power Plate® machines prevent injuries, but it can help rehabilitate them as well.Many professional sports teams have found Power Plate® machines to be indispensable for rehabilitation.The ability to strengthen muscles without strain on joints and ligaments can be extremely valuable for patients with rehabilitation needs. Increased blood circulation helps bring oxygen to inflamed areas to promote healing, while improved lymphatic flow helps drain fluid build-up from injured tissue.Physical therapists around the world have found the benefits of Power Plate® machines invaluable in their practices.
"In our patient population, we are noticing an increase in strength, balance, endurance, ability to stand and walk better and quicker by using the Power Plate."
- Dr. Terrence Braden, specialist in medicine and rehabilitation, Health South, Jonesboro, AR
Sports Performance
Top athletes and everyday sports enthusiasts are always looking for better ways to train their body and gain a competitive edge.For serious athletes, workouts on the Power Plate® machines enhance the results of conventional training and explosive strength training, as well as serve athletes and trainers alike to speed recovery and regeneration times.Because of the extensive academic and independent scientific research, professional sports teams throughout the world use Power Plate® machines as part of their strength, conditioning and rehabilitation programs. Here's what they are saying:
"Power Plate has proven to be a very effective and popular training modality with the Chicago Bulls and has demonstrated impressive results even after a short period of use - increasing their strength, flexibility, metabolism and circulation. All of our players are reaping benefits from using the Power Plate - improving their speed/quickness, jumping ability, balance and coordination. Additionally, Power Plate has proved to be a good remedy to soreness and pain reduction, while accelerating the injury / rehab cycle. The Chicago Bulls fully endorse this product and have machines both at our headquarters - the Berto Center and at the United Center."
- Eric Helland, Conditioning & Rehabilitation Coach, NBA Chicago Bulls
"I have found that The Power Plate has increased my strength, stamina, mobility and overall coordination - all critical elements to success on the golf course."
- Rocco Mediate, professional golfer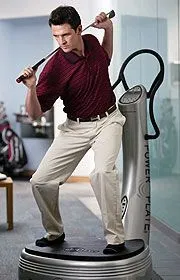 "The Green Bay Packers enthusiastically endorse the use of Power Plate technology. Our players recognize the benefits of the machine during their initial experience. My staff and I recommend that the Power Plate be utilized as during the weight training workout as part of the warm-up and cool down.The players are focused and quick to buy onto the theory of concentrating on stability while balancing on the vibrating platform. The Packers will continue to move forward with new ways to incorporate Power Plate technology as we search for the best training methods available today."
- Rock Gullickson, Strength and Conditioning Coach, Green Bay Packers
For additional information and exercises, Click on the link below